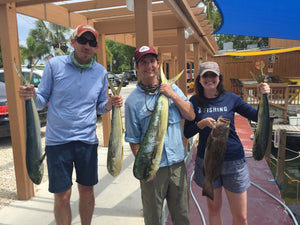 Rod & Rivet is moving! (Just upstream)
After two years in our little shop on Franklin, Laura and I are excited about our next step: We are moving...just a few doors down.  
We will be expand our brand assortment, grow our fly tying selection, and have more space to better serve our clients.   
It hasn't always been my dream to open a fly shop in Des Moines, IA or anywhere for that matter. It started as way to entertain clients from our clothing business or with casual trips hosting family and friends. But the real real catalyst was a conversation with our friend, Michael Chilton, who we came up with the name Rod and Rivet. Michael is one of our very good fishing buddies, and just as good of friend off the water. 
We actually "bought" the name "Rod & Rivet" with it's web domain not with cash, but with a trip to the Florida Keys.
After that trip, we chanced upon a space near one of our favorite restaurants, Simon's. Then I reached out to Orvis and Douglas about fly rods and within 2 years of catching those Mahi, Rod & Rivet was officially in business. 
We wanted to create a place within Rod & Rivet to learn, to talk, to explore, and yes, purchase fly fishing gear. It has been fun helping anglers choose their first rod or their next rod and introducing a whole new group of Iowans to the world of fly fishing. We are always learning on and off the water about the sport we love. We hope this new, larger space will provide a better experience for our customers. 
This year has brought different challenges and opportunities to businesses big and small. We are excited about our next step, but it is definitely a risk. 
Laura and I are asking you for your continued support now and throughout this holiday season. The best way to support your favorite small businesses is, of course, to shop with them, but also to share your love of their shop with a friend.
We invite you to check out our extensive selection of fly tackle, gear and clothing for the new or experienced fly fisher (or for anyone on your holiday shopping list).
We can't wait to have you in the new space soon. 
Kevin & Laura
PS: Don't know what to get? A gift card is always a good idea! 
---