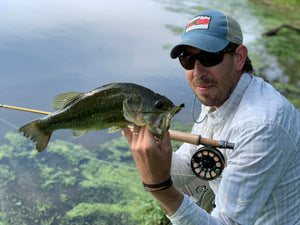 Fish Local
There's nothing better than planning a trip and having something to look forward to keeps us in this game. The promise of a new species, a new river, a new state is addicting. But this year fishing trips have been cancelled, borders and lodges are closed. Here are Rod & Rivet, we are rescheduling trips to the Keys, Alaska, and Belize for 2021. 
The last couple years I've been spoiled. I've made fewer trips to the Driftless as my time and money have been spent on chasing saltwater fish or cruising the Mountain West. I grew up, though, like most Iowans fishing on ponds. My young life was filled with so much pond fishing, that for quite a while I've found it dull.
I like moving water. I like hunting fish.
The biggest benefit of having a fly shop is that you get so much information and local knowledge from your customers. I get dozens of pictures and fishing reports a week.
It's easy to assume that most of our local Iowa rivers and ponds are mud holes, which is sadly the case for some, but my curiosity has peaked a few times with reports of big smallies, carp, or wipers here in Central Iowa.
I'm still looking at maps of Wyoming and Colorado and checking in with my guide friends in the Keys. But I'm also rediscovering the places I fished as a kid.
In the past two months I've waded the shoreline of a few small lakes looking for carp or bass and admiring the baitfish in the shallows. I fished a spring fed pond with a couple of new customers catching big bluegills that ate Clouser Minnows. I have been taking my kayak out a few times a week. 
Yesterday I walked down a two track only 45 minutes from my house with a fishing buddy. We went through dense forest and waded a river clear enough, but not cold enough, to hold trout. I spent a solid 30 minutes trying to feed a pod of quill suckers first with carp flies, then with squirmy worms, but no takers. I saw a soft-shell turtle poke it's head above the surface then retreat back into the current. We caught a handful of smallmouth, enough fish to keep it interesting but not too many that we were bored. I landed a nice carp, not huge, but full of run. It was a good 5 hours of fishing.
When we were done I drove home feeling what everyone who fishes wants to feel: I was satisfied, I felt full. Sometimes you just have to eat what's in the fridge. 
---