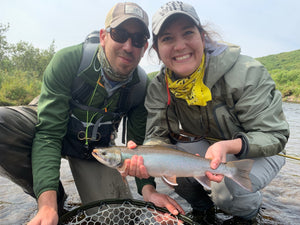 Update from Rod & Rivet
This past week we have been working hard to get Rod & Rivet online as we try to navigate these uncharted waters. We feel the same way you do right now: a whole lot of uncertainty.
The fly fishing industry is small, a lot smaller than you think. We want to encourage you to support the fly shops, guides, outfitters, and brands that help get you on the water. To do our part, we have partnered with many of our friends in the fly fishing industry to bring a little fishing joy to you right now. Follow Rod & Rivet on Facebook and Instagram this week, as we launch our new online shop, share some of our favorite fly fishing resources and host a few giveaways from our favorite vendors.
Spending money with small businesses helps now more than ever. If you have been thinking about a new rod, waders, boots, and you have the resources, buy them now. Tip your guides in advance, invest in that new vise, share a gift card with a friend you've wanted to introduce to fly fishing.
Help those who get you on the water to stay above water.
Thank you for all you do to support Rod & Rivet and the fly fishing community here in Iowa and beyond.
Tight Lines,
Kevin and Laura
---